Duke Ellington in Coventry: discovering television and jazz in the cathedral archive
In February 1966, as part of the British leg of their European tour, Duke Ellington and his orchestra travelled to the Midlands city of Coventry to perform their first Concert of Sacred Music at the new cathedral. This remarkable event was televised on the Midlands ABC channel and, in this paper, I considered the concert as both a live experience and recorded artefact. I argued that the Coventry performance is significant in the way that it occupies different, seemingly contradictory, spaces: both local and national, secular and divine.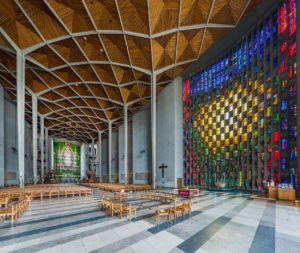 It also proposes a startling environment for jazz music; the severe, modernist cathedral designed by Basil Spence as part of a larger spatial re-conception of Coventry occurring over the 1950s and 1960s. The sound of Ellington's orchestra echoing within this cavernous place of worship suggests a shift in the British reception of jazz, expressed through the juxtaposition of music and innovative architecture.
I described my journey through archives both regional and national, attempting to create a composite of a programme thought lost, my eventual discovery of the badly degraded programme in the Studiocanal archive and my collaboration with the archive TV company Kaleidoscope and the University of Warwick Ghost Town project which aims to screen a restored version of the programme in the cathedral, along with a recreation of the concert by the Royal Birmingham Conservatoire Duke Ellington Orchestra. I concluded this paper by reflecting upon the survival and afterlife of archive television, demonstrating ways in the Ellington in Coventry research it builds upon and widens the scope of my current AHRC-funded project Jazz on BBC-TV 1960-1969.
Nicolas's paper was delivered on 21 February 2018 as part of the BCMCR Seminar Series.