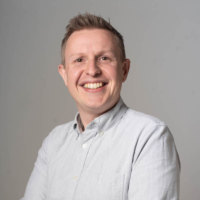 Screen Cultures at Industrial Approaches to Media
---
Oliver Carter and newly anointed Screen Cultures research associate Mark McKenna presented working papers at the Industrial Approaches to Media symposium hosted at the University of Nottingham on Thursday 5 June.
This one day research methods training initiative was aimed at postgraduate and early career researchers interested in engaging directly with media industry professionals and companies to produce original and collaborative research. It was co-organised by Screen Cultures research associate Matthew Freeman.
Mark presented a paper discussing some of the challenges he has faced when conducting his PhD research and particularly how his background as a graphic designer allowed him to construct a website promoting his research.  This has become a useful springboard to engaging with industry and audiences.
Oliver's paper titled 'Researching the Alternative Economy of Fan Industry' reflected on his doctoral research, specifically how he approached researching an informal, hidden enterprise culture.  The abstract for the paper is as follows:
Typically, academic work has framed the production of fan texts as a cultural activity rather than an economic activity. This presentation discusses the challenges and difficulties faced when researching fan industry, as I have done in my recent PhD thesis, which considers how European cult cinema fandom can be understood as an 'alternative economy'.  In this alternative economy, fans are 'creative' workers using digital technologies to produce artefacts that are exchanged as gifts or commodities; this practice relating to repertoires of professionalism.  This is in part due to fan production being a legally contentious activity.  Therefore, researching fan production presents a number of ethical challenges.  In this presentation I discuss how I resolved these issues by using a model of ethnography I name 'combined ethnography' and how I built relationships with fan run enterprises.