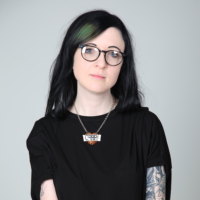 'Kinktrepreneurship and British Adult Entertainment' – Gorizia Spring School
---
As part of the 'Dirty Work? The Politics of Labour in the British Adult Entertainment Business' panel (organised by Dr Oliver Carter) at the Gorizia Spring School, my paper considered the Professional Dominatrix as an entrepreneur, and what this repositioning may mean for discussions around 'unconventional' entrepreneurship. 'Kinktrepreneurship and British Adult Entertainment' explored Mistress Absolute, who is an Elite lifestyle and Professional Dominatrix based in London, UK.
Through focusing on Mistress Absolute's work (i.e. via textual analysis), the paper explored how this example of entrepreneurial excellence can enable us to consider the political, economic, cultural and social conditions that affect work in the business of BDSM, Kink and Domination. The paper delivered is part of a wider intellectual project (an AHRC early career research bid – submission imminent) that focuses on a marginalised group ('Kinktrepreneurs' – the Professional Dominatrix) with a set of industrial practices, which are situated in wider social and cultural politics.
Unconventional entrepreneurship:
Unconventional entrepreneurship can be as simple as women being considered as entrepreneurial. This is even before we enter discussions about women in unconventional careers, such as Professional Domination, managing fetish clubs and websites, and producing content for the (adult) entertainment industry (i.e. films, erotic art, club nights and special events for the BDSM community, including performances for stage shows and kinky cruises). Further inclusions are unconventional entrepreneurial business women – which the paper framed as 'Kinktrepreneurs' – designing bespoke events for kink education and even producing 'how to' guides (i.e. books and DVDs) for individuals wanting to explore new things with their partner in the bedroom. A requirement for success in this business are a range of skills and managerial insight, such as knowing the market and acknowledging the various satellite industries that intersect due to the emergence of leisure and consumption as key sites of the new economy. Another massive aspect of success is personality and individuality, which calls for the embodied vision of the entrepreneur.  Pro-Dommes such as Mistress Absolute use a range of conventional techniques in business management to build and sustain a kinktrepreneurial empire (i.e. via branding, etc.). Other tools and techniques include: image management and identity work, utilising networks, branding across multiple digital platforms, investing time back into the community, being aware of the diversity of the market and how to diversify, taking advantage of opportunity, and linking different ventures together to add consistency to their business and enterprise.
I use the term 'unconventional' career loosely, because being a Professional Dominatrix is a valid career choice. Perceptions and prejudice exclude these careers as careers in their own right. This is evidenced in the lack of recognition of Pro-Dommes being considered as entrepreneurial, as the majority of academic discussions situate the entrepreneur in contexts that are hegemonically normative. A consequence of this is the continuation of the masculinisation of entrepreneurship. Informal ways of carving out an entrepreneurial career is not really included in mainstream academic discussions in some disciplines, yet other routes to entrepreneurial success could possibly challenge archaic attitudes that women have things 'done to them' to 'give' them skills to overcome barriers that manifest due to their gender (i.e. this adds to the erroneous presupposition that all women inherently 'lack' something). How this plays out or is challenged by the (Elite) Professional Dominatrix is interesting, as mentoring is dynamic and not straightforward. Mentoring and learning multiple skills may develop though community networks, personal interest or lifestyle, sharing best practice with other people on the scene (BDSM players, as well as other Po-Dommes) and, potentially, working closely with a Pro-Domme to develop a career in Domination (i.e. like a drag mother, perhaps). Consequently, mainstream definitions and conceptualisations of entrepreneurial identity is limited, subjective and one dimensional.
Attractive qualities of unconventional entrepreneurship:
With any form of unconventional entrepreneurship, the attraction might be flexible working hours, potential high return, low running costs, and flexibility in terms of what you specialise in and the direction you may take due to consumer demands. Autonomy in entrepreneurial careers can enable flexibility with scheduling, selecting clients you would be happy to work with, and the opportunity – specifically for women – to control the production and distribution of their work. Interestingly, the depictions of entrepreneurial identity intertwine with how female entrepreneurs deploy a range of strategies to accommodate their different roles and people's perceptions of their career. This also includes the type of entrepreneurship they do, their family contexts, and other aspects, such as social identity, sexual identity, and educational capital. Portfolio careers now shape employment landscapes and possibilities, with flexibility, valuable skills and informal knowledge's identified as key components of enterprising femininity. This fits well alongside discussions around developing an entrepreneurial mind-set and exhibiting entrepreneurial traits, abilities and behaviours when entrepreneurial activities have been completed. What is left out of these general discussions, however, are entrepreneurial traits and activities within the context of Professional Domination.
Kinktrepreneurs and Kinktrepreneurship:
Although the image of the entrepreneur is usually masculinist by default, and despite the multiple barriers some women may face, new forms of entrepreneurship have emerged. It is still deeply concerning that there is still little recognition of women entrepreneurs in industries beyond traditional forms of business, fashion, property and heteronormative lifestyle. There are some discussions of alternative income streams and the gig economy in the adult entertainment industry, such as pornography and sex work. These careers are not considered as entrepreneurial beyond self-published work, academic journals such as PORN, sex worker rights advocacy groups and sex workers themselves who identify as entrepreneurs. Even calling adult work a creative practice or a creative industry is a radical concept. When it comes to the Professional Dominatrix being seen as an entrepreneur: there are zero discussions in academic literature and within mainstream discussions of entrepreneurship. There are, however, some critiques around interactions between virtual dominance and submission, emotional labour of the professional Dominatrix, and Pro-Domme empathy towards clients. Seemingly, these contexts are not readily included in contemporary discussions of entrepreneurship and the enterprising woman. This absence potentially further marginalises and misrepresents other forms of entrepreneurship which, in fact, have been part of the creative industries for a long time.
The distinct gap in academic work and non-academic discussions, is problematic as assumptions may prevail around what types of entrepreneurship matter, and what forms of work are enabling factors for the 'neo-liberal woman' within the boundaries of consumer capitalism. The exclusion of Pro-Dommes, their careers or their experiences perpetuates sigma around women's choices to be directly involved in 'marginalised' or 'unconventional' professions that are largely considered not to be legitimate, professional, feminine or entrepreneurial. Any absence of academic work on the entrepreneurial Pro-Domme can mean that studies of 'entrepreneurship' still valorise certain types of women and entrepreneurial pursuits.
Through exploring Mistress Absolute as a case study and the concept of Kinktrepreneurship, I argued that unconventional entrepreneurship needs to be included in academic and popular cultural discussions of entrepreneurial identity. The maintenance of success evidenced by Mistress Absolute can challenge the masculinist discourse and image of the entrepreneur, and the routes to securing a successful entrepreneurial empire. The paper suggested that women, particularly the Professional Dominatrix, have a central place in shaping the qualities, definitions and scope of the 'entrepreneur.' More research need to be conducted, but the future of entrepreneurship scholarship is the Kinktrepreneur.