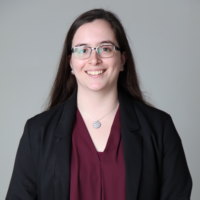 Now published! Fanvids: Television, Women, and Home Media Re-Use
---
I am pleased to announce that my monograph, Fanvids: Television, Women, and Home Media Re-Use, is now available from Amsterdam University Press as an ebook and in hardcover.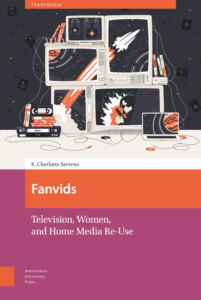 This book revises and updates my PhD work about fanvids, and is a look at vids as texts in their own right. In the early 1980s, media fans used the vid form to intensify and construct the pleasures of television series, with clips from a show cut to music. Vidding has developed and changed over the last several decades, but the core principle remains the same: to use the vid form to say something to fellow fans about a television series (and, later, about films, video games, comics, and other media text). I am fascinated by how vids segment and re-present their source material, particularly as television is a segmented/fragmented medium.
Across four main case study chapters, I examine the vid form from a range of perspectives in order to approach a sense of the complexity and richness of the form. These chapters cover vids in relation to music video and experimental films, as historical/archival works, as pieces that reflect the many pleasures of media spectatorship, and as adaptations of their source material. I centre the vids themselves, do not make claims about a vidding 'culture', and reflect on the apparent argument of individual works rather than vidders' intentions.
I first started exploring these ideas over ten years ago, and it is satisfying to think that this book draws a line under a lengthy project. My intended audience is not limited to fan/fandom studies, though it is past time for vids to have the same sustained critical attention as fan fiction and other forms of fanworks. Folks who encounter vids for the first time often comment on the sophistication of the editing, often with some surprise, despite vids having four decades to develop. Exploring vids leads quickly to considering how audiences engage with television, film, and other mediaforms, and what changes in domestic media technologies afford. The critical and creative work of vidders represents one possible route for the afterlife of television and films, post-broadcast and post-release.
From the back of the book:
Fanvids, or vids, are short videos created in media fandom. Made from television and film sources, they are neither television episodes nor films; they resemble music videos but are non-commercial fanworks that construct creative and critical analyses of existing media. The creators of fanvids – called vidders – are predominantly women, whose vids prompt questions about media historiography and pleasures taken from screen media. Vids remake narratives for an attentive fan audience, who watch with a deep knowledge of the source text(s), or an interest in the vid form itself. Fanvids: Television, Women, and Home Media Re-Use draws on four decades of vids, produced on videotape and digitally, to argue that the vid form's creation and reception reveals a mode of engaged spectatorship that counters academic histories of media audiences and technologies. Vids offer an answer to the prevalent questions, What happens to television after it's been aired? How and by whom is it used and shared? Is it still television?