Launch of the New Cine-Excess Journal Issue
---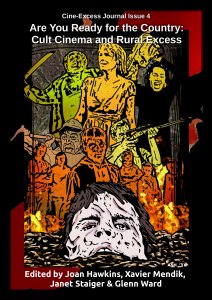 The latest issue of the Cine-Excess journal has just been launched, and is co-edited with Dr. Joan Hawkins (University of Indiana), Professor Janet Staiger (University of Texas) and Dr. Glenn Ward (University of Brighton).
This edition of the journal is entitled Are You Ready for the Country: Cult Cinema and Rural Excess, and is a special themed issue which deals with representations of rurality across a range of national cinema traditions. It contains seven key submissions from a range of scholars who address constructions of the countryside in American, Australian, British and German cult cinema cycles. Articles are complimented by related filmmaker interviews and a conference and book review section.
The Cine-Excess journal is an open access, online publication that combines peer-reviewed academic articles on global cult film cultures alongside interviews with the filmmakers responsible for their creation.
Read the new edition of the Cine-Excess journal here: https://bit.ly/cine-excess-4