RIFFS Special Edition Now Available
---
A special edition of RIFFS has been published.
This edition was commissioned in response to the Home of Metal Symposium 'Music Heritage, People and Place' which took place at BCU on 13th September 2019. Speakers and attendees were invited to make creative contributions in response to the themes of the event. Under the guidance of Dave Kane of RIFFS, the special edition was put together one day, following an established DIY 'zine methodology.
You can download a PDF of the edition or read a digital version online.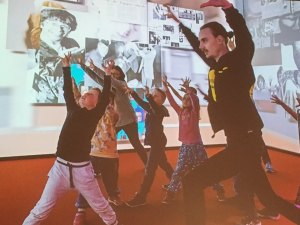 An image of an interactive exhibition at Rockheim, Norway's museum of popular music, from the Keynote presentation by Synnøve Engevik