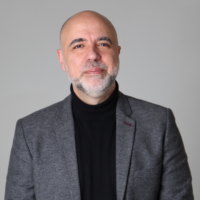 Jazz Journeys: Everyday Life A photographic exhibition
---
This exhibition features photographs and musicians' quotes from a collaborative pilot research project called Everyday Jazz Life: A photographic project on contemporary jazz musicians lives in Birmingham. The project, at Birmingham Centre for Media and Cultural Research (BCMCR), brought together jazz scholar, Dr Pedro Cravinho and freelance jazz photographer Brian Homer. 
The exhibition was launched on January 16th 2020, during the Documenting Jazz 2020 international jazz conference hosted by Birmingham City University (BCU) between 16-18 January.
By using photography, as one of the outputs of the project, the Jazz Journeys exhibition aims to reveal some of the issues and constraints that jazz musicians face through their musical careers. Homer's photography of the six musicians involved in the project shows them in their everyday lives. The participants were pianist David Austin Grey, sax players Alicia Gardener-Trejo, Chris Young, Joey Walter, and Xhosa Cole (2018 Young Jazz Musician of the Year), and violinist and vocalist Ruth Angell.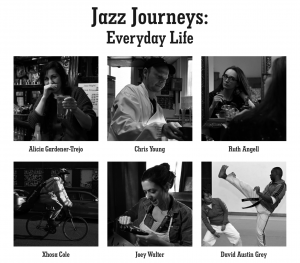 In addition, there is a multi-media projection of Homer's pictures contrasting fast-paced performance shots with slower-paced images from the project – curated by artist Tony McClure who has also acted as a consultant to the exhibition.
Find out more about these musicians lives and what they do as well as play jazz by visiting the exhibition at:
Centrala, Unit 4 Minerva Works, 158 Fazeley St, Birmingham B5 5RT
Tel: 0121 513 0240 Web: www.centrala-space.org.uk
January 15th to February 1st 2020
Open Wednesdays to Saturdays
12 – 8 pm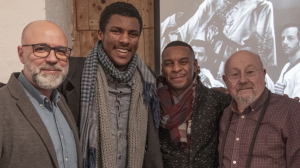 Pedro Cravinho, Xhosa Cole, David Austin Grey and Brian Homer at the launch of the "Jazz Journeys: Everyday Life" exhibition at Centrala (photograph by Alan Ainsworth).