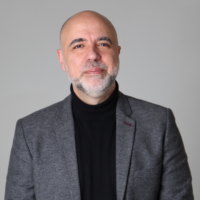 Jazz and Colonialism
---
'Encounters via jazz':
The connections between the
Empire-Students House and the University Jazz Club
in colonial Portugal.
My article dedicated to the memory of Raul Calado (1931-2018), an important Portuguese jazz promoter and critic, was published in a special issue celebrating the tenth anniversary of Glosas No. 20 (October 2020), under the title "Encontros via jazz: Raul Calado e a Casa dos Estudantes do Império."
There were different modes of resistance in colonial Portugal during the Estado Novo ("New State", EN) regime. Music was one of those modes and jazz in particular as explored in this article. It circulated in a wide range of different modes. Among other jazz-related activities, the Clube Universitário de Jazz ("University Jazz Club"; CUJ), led by Raul Calado, organised balls, performances, lectures, recordings sessions and published the first Portuguese journal entirely devoted to jazz (Cravinho 2018).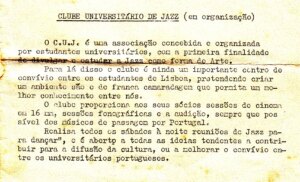 When analysing Lisbon's Casa dos Estudantes do Império ("Empire Student House"; CEI) range of cultural activities its stands out its connections with CUJ. The choice of these 'encounters via jazz', as a case study, it is not only related to CEI's central role towards African Portuguese-speaking countries independence movements but also due to CUJ's subversive actions against the New State regime. If on the one hand, CEI represented the ideal of the unity of the Portuguese Colonial Empire, explored by Salazar's EN colonial regime propaganda. On the other hand, it became a space of intellectual and political discussions by many of those who have been at the base of the African Portuguese-speaking countries independence movements. These debates have been extended to other university student's communities around the country. An example of this was CEI's close connection with CUJ, through jazz-related activities, particularly subversive activities.
By associating jazz's contribution to the Civil Rights Movement and the struggle of the African-Americans against the white supremacy in the United States of America, both CUJ and CEI student communities reinforced a collective awareness against Salazar's EN regime colonial policies. Based on both archive and fieldwork research, the article analyses the 'encounters via jazz' between CEI and CUJ in Portugal's colonial empire metropolis. In particular, the role that jazz, as a social and musical practice, took in those processes as an enhancer of as yet non-existent social realities during a period of censorship, repression and persecution of Portugal's contemporary history.
For further information about Glosas, please check:
https://mpmp.pt/produto/glosas20/
Reference:
Cravinho, Pedro (2018) The 'truth' of jazz- The history of the first publication dedicated to jazz in Portugal, Jazz-Hitz 1- 57-72