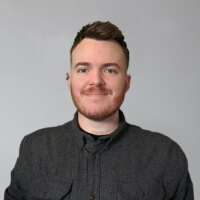 Game Cultures Blog – Investigating the Games Industry – February 23rd 2022
---
In the second of the 21-22 BCMCR seminars for the Game Cultures Cluster, we were joined by Quintin Smith, a freelance games writer, whose work has been featured in Wired, the Guardian and NPR, who also runs two Youtube channels: People Make Games, which tells stories about videogame development and the developers behind them, and Shut Up & Sit Down which focuses on board games and analogue games.
Quintin's talk today was titled Roblox's Disruption of Child Labour, which began with an outline of the game Roblox and the Roblox corporation behind it, which is the most valuable games company in human history, but also has a much darker side as a platform being sued by one of its own shareholders as the "leading platform for paedophiles", due to a subculture of sex games hidden from moderators, known as "condo/con" games.
Roblox is a platform and toolset inspired by Lego which was created with the vision to allow kids to make games for other kids using relatively simple to use development tools to get them into games from age 11. The platform launched in 2006 and saw a revamp in 2007 which introduced tickets, an early currency that could be used to buy custom clothing, earned through players visiting your created level.
In 2013 this changed to implement an incentive called DevEx where users could take the virtual currency for the platform named RoBux and cash them back out into the real world to make money, meaning developers on the platform could suddenly make a real living.  In 2016 the tools and engine advanced a little and tickets were discontinued so users could no longer get you a profit just by you making a game they wanted to visit.  You had to have monetisation, users needed to pay RoBux and monetisation was the only thing that mattered.
The platform hit 30 million users a month in 2017 and had become plagued with aggressive monetisation practices similar to what we see in mobile games – games are free to begin with then get more expensive as you are offered things to buy, in a manipulative manner to encourage more spending.
Roblox exploded in popularity over the pandemic and became a publicly traded company in 2021, with the platform seeing 150 million monthly users between 2019-2022.  Overnight this enormous company became more valuable than Ubisoft or EA, with their shares trading at $69 a share.  However – this money was not getting to those developing on the platform.  Some kids were making more money than their parents from development but the company was still taking the biggest share – 75.5% of the game/title sold.
Children are submerged in the idea of entrepreneurialism when on Roblox as they are told to make anything that can reach millions of players and earn serious cash, over $2 million a year according to their website – a claim that was removed from their website after People Make Games' first YouTube video covering Roblox.
The children using the platform do not understand the economics involved.  They must earn 100,000 Robux before they are able to withdraw any money, which is equivalent to $1000 USD, but they would only actually receive $350.  Quintin likens this practice to children working in historic logging camps and mining towns where they would earn fictitious money invented by companies that could only be spent in the local vicinity, where companies would take a fee if any scrip (the name for the currency) was to be converted into USD.
With Roblox, children want to be successful developers but there are millions of game experiences on the platform and only a few become top games.  Users that spoke to Quintin did so anonymously so as not to harm their relationship with the platform or other creators, as upsetting the owners would lose a lot of rights for those involved, and the company gets away with this because it is being done to children – they are so embedded in the infrastructure that leaving Roblox would mean abandoning friends – even though the practices employed by Roblox would be illegal if not being done online due to child labour laws.   Making a successful game now requires joining a team where children are made to sign contracts with bosses who may also be children themselves, who can change wages each other are awarded, or managers can take control of projects and kick everyone else off, for which there is no recourse or challenge process on the platform.
During People Make Games' second investigation they were contacted by politicians who were alarmed and wanted to make frameworks to legislate against such practices as no laws for digital child labour are fleshed out enough currently.  Quintin's work is ongoing around Roblox and he continues to investigate the company and lobby for tighter controls around child labour laws on the internet.
For more upcoming events from BCMCR please see our Eventbrite page found here.