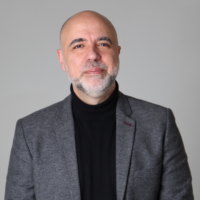 "Freedom Dance": Jazz at lockdown times
---
A version of this appears in the NEW THINKING #3.7 pamphlet.
Living behind Birmingham city centre, after weeks self-isolated, and taking the last flight back to my home country before the borders closed was bizarre. I was the only one going through security and one of very few at Birmingham's International airport that day. Apart from three security guys, two duty-free shop employees playing tennis in the corridors of the empty airport lobby, and four guys from the ground-force playing cards. Not forgetting a small group of friends enjoying their pints at 6:00 am while waiting for their flight to Malta. I felt being taking part in a distant dystopian sci-fi movie. Regarding my trip, all passengers in silence wearing masks and gloves, seated separately, in a flight with no service on board.
Since my arrival, I've been in quarantine. The city of Braga gradually became a small red dot on the contagion map. Yet, outside, everything looked and sounded very peaceful and quiet. My sense of time gradually changed. Not in terms of work. The pace of work has intensified, mostly with virtual meetings. Work invaded each of my waking hours, as jazz did as well!
With the lockdown, I had the opportunity to (re)listen to many of my 'old' jazz records I've meant to hear for years. Music – recorded music – and photographs allow me to travel. Before I start writing these lines, my mind was someplace around Europe in the mid-1970s. I was watching to black and white television footage of Shirley Scott performing "Don't Look Back" (by Harold Vick): Shirley Scott (Hammond organ), Harold Vick (tenor saxophone), and Arthur Taylor (drums). https://www.youtube.com/watch?v=88UI6EcBWPY
The tune is part of Scott's album, One for me (1974). Watching those images led me to revisit what I believe to be, one of my early jazz experiences. I was in Oporto, with about five years old, listening to my late father Shirley's album, For Members Only (Impulse, 1964). I recalled its pink cover and Shirley's picture by Bob Ghiraldini.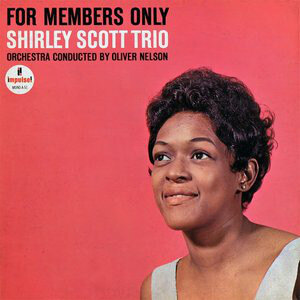 Scott's television clip was shared by a dear colleague of mine that lives on the other side of the Atlantic – currently based in Long Island –, writing a book about four female jazz musicians. Watching the 1970s television clip "Don't Look Back" was my reencounter with Scott's music. Those images, its liveness led me to (re)visit Scott's For Members Only again. Looking to the album cover, touching and smelling that vinyl took me back to a particular time and place. At first instance, one might consider that as an artefact – the vinyl –, exists as a static object. Its presence was lost from my everyday life over more than four decades, yet, as a sonic fragment, it actively worked as a cross-temporal transmission between past and present times.
(Re)listening to Scott's playing "Freedom Dance" (by Oliver Nelson), 'a tune with the fervor of the times' – yes, BLM, still, current times –, and its 'gospelish flavor', revealed to be an amazing sonic experience (Shields 1963).