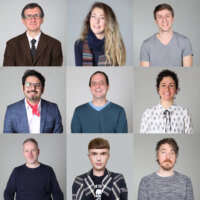 CHIME Festival App
---
The mobile application has been developed as part of an on-going project being undertaken by researchers at Birmingham City University, initially as part of the EU and JPI-funded CHIME project and now entering a new phase.
The BCU team are exploring innovative ways of planning and managing jazz festivals in online environments and are keen to see how the app can become part of the festival experience. Following pilot phases in 2016 and 2017 the app was recognised by the European Commission at the 2018 Fair of European Innovators in Cultural Heritage, held in Brussels. In 2018 the BCU team began working with Birmingham-based mobile development company 1UPDesign on the development of a CMS (Content Management System) that would allow festival organisations to build and deploy their own applications.
This recent work has produced a third iteration of the application, built by the team at Cheltenham Festivals using the CMS, which will be piloted at the 2019 Cheltenham Jazz Festival in May 2019. The application now has a number of new features, including a function allowing users to manage a personal schedule of festival events during their visit. The app will be available to all visitors at the festival as a free download via the Apple and Google app stores.
Alongside this the BCU team are currently working with a small pilot group of attendees in order to explore how the app becomes part of their festival experience. Following the Cheltenham Jazz pilot the BCU team will be demonstrating the technology to a number of pan-European festival organisations, including the European Jazz Network, with the aim of developing international research partnership opportunities that will enable to the app to reach a wide variety of audiences and organisations.