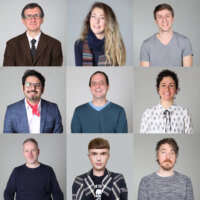 Cheltenham Jazz Festival 2019
---
Now one of the country's most renowned jazz festivals, the 2019 instalment of the Cheltenham Jazz Festival (1st – 6th May) was the biggest yet. As well as showcasing a number of young jazz musicians from the Royal Birmingham Conservatoire, the festival also featured contributions from three of the BCMCR's researchers: Dr Craig Hamilton, Dr Nicolas Pillai, and Dr Sarah Raine.
Dr Craig Hamilton was involved with building the new Cheltenham Jazz Festival app which marks the third iteration of a CHIME-funded research project exploring innovative ways of planning and managing jazz festivals in online environments. The app was built by the Cheltenham Festivals team using the Content Management System developed by Dr Hamilton, the project team at BCU, and the mobile development company 1UPDesign. A small pilot group of CJF attendees worked with Craig in order to explore how the app becomes part of their festival experience.
Dr Nicolas Pillai, building on his current AHRC-funded research project 'Jazz on BBC-TV 1960-1969′, acted as the research consultant for Jazz 625: For One Night Only, a BBC 4 television programme paying tribute to the iconic 1960s BBC Two jazz show of the same name broadcast live from the festival. The 90-minute show was hosted by Andi Oliver, featured special guests including Gregory Porter, Charlie Watts from the Rolling Stones, Joshua Redman, Jacqui Dankworth and Cleo Laine, was broadcast at 9pm, Friday May 3rd.
Dr Sarah Raine is currently undertaking a ten-month research project funded by AHRC, exploring the experiences of women active on the UK jazz scene and to provide a public report supporting Cheltenham's Keychange pledge to achieve a 50:50 gender balance by 2022. As part of the project Sarah conducted interviews and held a roundtable discussion during the festival, bringing together a range of people from academia and industry to discuss the Keychange initiative.