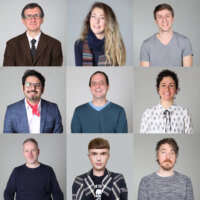 BCMCR Music Hack Day #1 – Hack The Tin Men
---
On 23rd-24thNovember 2018, BCMCR presents the first in a new series of 24-hour Music Data Hacks.
The aim of these events is to bring together BCU researchers and students with data practitioners from the Birmingham area, to work collaboratively on the development of online data visualisation tools, product prototypes, and experimental analytical methods. The first of these events explores possible uses and applications for data collected about live music performance.
Tin Men and The Telephone are a jazz trio from The Netherlands who incorporate mobile technology into their live shows. Audience members can alter elements of the performance during shows, changing things such as tempo, key and can even help produce improvised solos. Using data collected via the mobile application at previous events, this hack aims to explore the ways in which the data collected could be used as the basis for new online tools, interfaces and games that could make it more useful/meaningful to either audiences, venues, or the even the band themselves.
Working in small teams, it is expected that participants will conceive, plan and build a working prototype of a visualisation interface or similar tool within 24 hours. Teams will then be invited to present their ideas before a special performance by Tin Men and The Telephone at BCU Royal Birmingham Conservatoire on Thursday 29th November. Prototypes will be evaluated by a panel comprising of BCMCR researchers, technologists, and members of the Tin Men and The Telephone band. The winning team will be awarded a prize.
Researchers from BCMCR and representatives from the music industries and technology sectors will be on hand throughout the process to offer support and guidance. The initial 24-hour hack will conclude with an informal drinks reception and networking event on Saturday 24thNovember, and team members will also be  provided with free tickets to attend the Tin Men and The Telephone concert on 29thNovember.
Registration for the event is free, and tickets include refreshments and lunch. All data will be provided, but you will need to bring with you your own laptops, including any software or applications you intend to use during the course of the event. We cannot provide computers and/or software.
We hope you will join us for the first in this series of Music Data Hack Events. We look forward to welcoming you on 23rdNovember. For further information please feel free to contact craig.hamilton@bcu.ac.uk