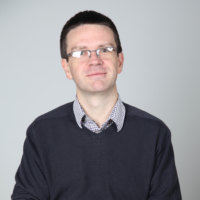 Association of Journalism Education – Summer Conference 2022
---
On June 24th, I presented at the AJE's summer conference, my first in-person event since the Academic Archers conference in February, 2020. Just two days after presenting remotely to the Global Fact 9 conference about our Check Global work, the AJE event was an opportunity to make the trip down to London – in my case, to present my experiences of teaching Tiktok journalism and reflect with other journalism educators. I stressed what I saw to be the value of a collaborative and co-learning experience, as the second-year students on the Disruptive Publishing module grappled with what it means to create 'journalism' on a platform that is typically not thought of in that way. In an unusual turn, the students were given agency in being 'experts' of Tiktok, and we suggested together how journalism standards and features could be applied in that context. Our discussions also explored various issues. How can news platforms engage there without appearing to cynically appropriate the platform and culture? What aspects of professionalism and amateurism can and should be applied? Following the presentation, questions also came from the delegates:
How to students respond to mainstream media 'doing Tiktok'? Largely without too much concern, accepting that it is a way to reach new and younger audiences.

Could a content analysis approach be used with the students, to explore the extent to which 'views' and other interactions would be important to them, signalling success? This is something I'll be considering, as I come to teach the module again in September, which could potentially lead to some more experimental student approaches.

Is Tiktok applied in news days, or on other modules on the BCU Journalism degree course? Having spoken to colleagues since, it is, and students increasingly apply some of these platforms, skills and technologies in modules when they're covered earlier in the course.  
Other presentations on that second day of the conference were also insightful. Jonathan Brown discussed how community engagement practices and ethos can be applied throughout a journalism curriculum, making references to hyperlocal media. This reminded me of difficulties I've sometimes had in suggesting with students that not all news media practices are rooted firmly in careers or paying jobs, but that the value of activist, alternative media must be understood too.
The last two talks, from Delme Parfitt (Preparing students to deal with the increasingly challenging environment of journalist harassment on social media) and Dr John Price and Barbara Longo-Flint (Resilience under fire: How can we best protect investigative journalists and students from online, physical and legal threats?) were also thought-provoking. What do students need to know about protecting themselves from harassment or other forms of attacks, and at what stage of their education? How do those threats differ from one region to another – on the Check Global project, we work with organisations and journalists who are sometimes shutdown, arrested, labelled 'fake news' or otherwise blocked (Turner and Saber, 2021); should we be preparing UK students for working in such global contexts?
Thank you to AJE for planning the conference and going ahead with an in-person event despite the potential problem of the rail strikes that week. It proved a valuable way to reflect on teaching practice and consider some new ideas in the build-up to the new academic year.