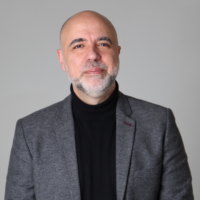 A new European Jazz Research Journal, Jazz-hitz
---
As co-editor of a new European Jazz Research Journal, Jazz-hitz, I have the pleasure to announce that our first issue is already out. Led by Patricio Goialde (Musikene), and featuring Mark Barnés (Eresbil), Jorge García (Institut Valencià de Cultura), Teresa Luján (Conservatorio Superior de Música de Navarra), and myself, this new jazz research journal is promoted by the Jazz Department of Musikene, Higher School of Music of the Basque Country, Spain.
With an annual periodicity, Jazz-hitz aims to publish jazz-related scientific works by opening its doors to collaborations from different countries and diverse languages. Above all, Jazz-hitz wants to contribute to the visibility and knowledge of jazz research.
My first contribution to Jazz-hitz as an author was published under the title "The "truth" of jazz: The history of the first publication dedicated to jazz in Portugal". As the title suggests, this essay explores the inception and circulation of the first jazz magazine in Portugal during the right-wing colonialist New State regime.