Punk Now!! Contemporary perspectives on punk.
---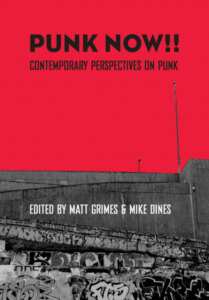 Punk Now!! brings together papers from the second Punk Scholars Network International Conference and Post Graduate Symposium, hosted by BCMCR and Birmingham City University, with contributions from revered academics and new voices alike in the field of punk studies.
The collection ruminates on contemporary and non-anglophone punk, as well as its most anti-establishment tendencies. It exposes not only modern punk, but also punk at the margins: areas that have previously been poorly served in studies on the cultural phenomenon.
By compiling these chapters, Matt Grimes and Mike Dines offer a critical contribution to a field that has been saturated with nostalgic and retrospective research. The range and depth of these chapters encapsulates the diverse nature of punk subculture -and the adjacent academic study of punk- today.
https://bcmcr.org/publications/punk-now-contemporary-perspectives-on-punk/