Encounters with Jazz on Television in Cold War Era Portugal: 1954–1974
---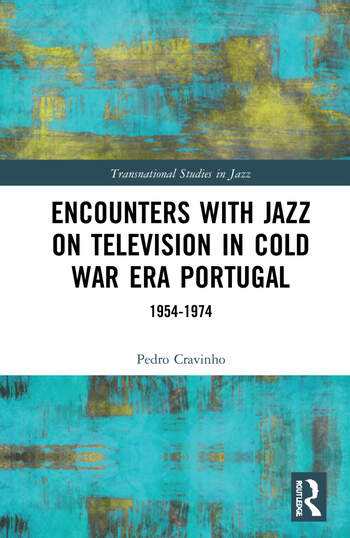 By Pedro Cravinho
About the book
Encounters with Jazz on Television in Cold War Era Portugal: 1954–1974 it is the first long-form study of jazz on television in a single country resulting from several years of fieldwork and archival research conducted in different music and media archives in Portugal, Belgian, Norway, Finland, and the United Kingdom. It explores the relationship between jazz and television by investigating the experiences of performers and producers in one of the last European colonial states (Portugal) during a period of political and social repression and global isolation. This model of systemic analysis reveals a paradoxical interrelationship between state-controlled television and international media industries, highlighting the space where these two forces collide and locating television jazz production within an important cultural milieu with a lasting impact on Portuguese society.
In exploring the connections between these national and international jazz scenes, Encounters with Jazz on Television in Cold War Era Portugal addresses opportunities for an in-depth comparison of the Portuguese experience with other countries, situating Cold War-era Portuguese television jazz broadcasting as part of a bigger, still unwritten story.
The book is available from Routledge as part of the Transnational Studies in Jazz series.
About the book
Dr Pedro Cravinho is a Senior Research Fellow at Birmingham Center for Media and Cultural Research, and the Keeper of the Archives at the Faculty of Arts, Design and Media, Birmingham City University, UK, and member of CITCEM – Transdisciplinary Research Center «Culture, Space and Memory» at the Faculty of Arts and Humanities, University of Porto, Portugal. Cravinho's research interests include the social, political, and cultural history of the jazz diaspora and its distinct media representation in the public sphere. He is a trustee for the National Jazz Archive and Archives West Midlands, UK, a board member of the Scottish Jazz Archive, the Duke Ellington Society, UK, and a co-founder and board member of the Portuguese Jazz Network (PT). He is a co-investigator in the AHRC/NEH project "New Directions in Digital Jazz Studies." Cravinho's publications include key research about the history of jazz in Portugal.