Material Reflections – Patch lead Possibilities – Chris Mapp
---
Material Reflections is a collection of short reflective pieces exploring the complex personal relationships that people form with material things. Bringing together perspectives from a range of academics, students, and cultural practitioners, the project seeks to highlight the breadth and plurality of ways in which material things impact upon our ideas, identities, research, and practice. This Material Reflection comes from Chris Mapp – a bass playing improviser and PhD student whose practice and research focusses on the use of electronics in improvised music. In it, he reflects upon a particular element of his pedalboard – which houses the various effect pedals which he uses to manipulate sound during his performances – and the possibilities that it signifies to him.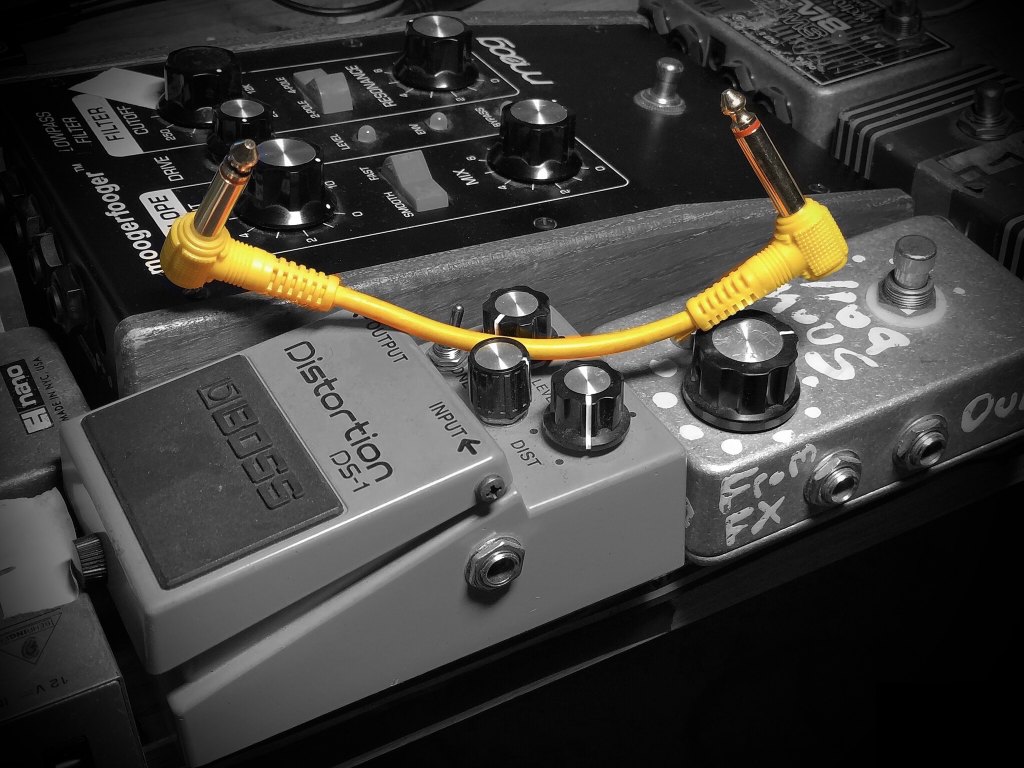 I'm not overly sentimental.
Despite owning sizeable collections of musical equipment, records, bikes, books and tools, very little is kept unless it is of some practical use. Possessions come and go as they are needed. When it comes to my pedalboard I'm particularly ruthless. If I buy a new pedal I keep its box, not for posterity, but so it will hold more value when I (sometimes quite hastily) decide to sell it on eBay.
In amongst all of the useful sound manglers, wires, cables and power leads is a patch lead I've owned for nearly twenty five years. A patch lead is designed to carry audio signal from one device to another. Necessarily, I have a lot of patch leads but, unless they are awaiting repair, they are all plumbed into my board. This one remains in my gig bag, unused. The patch lead is made from badly moulded yellow plastic. It measures less than six inches. There is a manufacturing defect at one end and some of the plastic casing has come away. It has always been like this.
It came free with the August 1994 copy of Guitarist magazine, sellotaped to the front in a small baggie. The cover featured a grinning Mark Knopfler standing in front of a collage of multicoloured Dire Straits album covers. I have never been a guitarist, or a fan of Dire Straits, and I don't know if I ever bought the magazine again. The only reason for me to buy it was to get that yellow patch lead.
At the time I didn't own a single effects pedal, let alone multiple pedals that would require a patch lead to chain them together. I had no practical use for it yet, to me, the lead represented a world I aspired to be a part of. This was the sort of thing that "professional musicians" owned, and to a teenage bass player that meant everything.
I could only dream of the wah-wahs, distortions, fuzzes, phasers, octavers, reverbs, delays and asyet-unknown-to-me pedals that I could plug my new lead into. The endless possibilities of creating new sounds with my bass were represented by this tiny patch lead. My teenage curiosity led me to scour magazines, album covers and liner notes to learn more about the world to which I now held the key.
When I eventually began to build my collection of effects pedals I realised that the lead was of little practical use to me. Certainly, it's too short to make the connections I need around my current board. Despite this, tucked in my gig bag, it goes everywhere with me. The lead has survived hundreds of gigs, countless house moves and outlived many other jack leads, patch leads, XLRs and power cables that have come and gone.
It represents possibility.
It reminds me to stay curious.
It reminds me of why I got into this in the first place.
– Chris Mapp