Material Reflections – Making Order out of Chaos – Hilary Weston-Jones
---
Material Reflections is a collection of short reflective pieces exploring the complex personal relationships that people form with material things. Bringing together perspectives from a range of academics, students, and cultural practitioners, the project seeks to highlight the breadth and plurality of ways in which material things impact upon our ideas, identities, research, and practice. This Material Reflection comes from Hilary Weston-Jones who is a Lecturer in Professional and Academic Development in the Birmingham School of Media, where she teaches on Television Production Management, Health and Safety, Copyright, Ethics and Employability. Prior to joining BCU, she worked for 24 years as a Production Manager in broadcast television for the BBC, and as a freelancer, with credits including Countryfile, Big Brother, Trawlermen and the Sky at Night.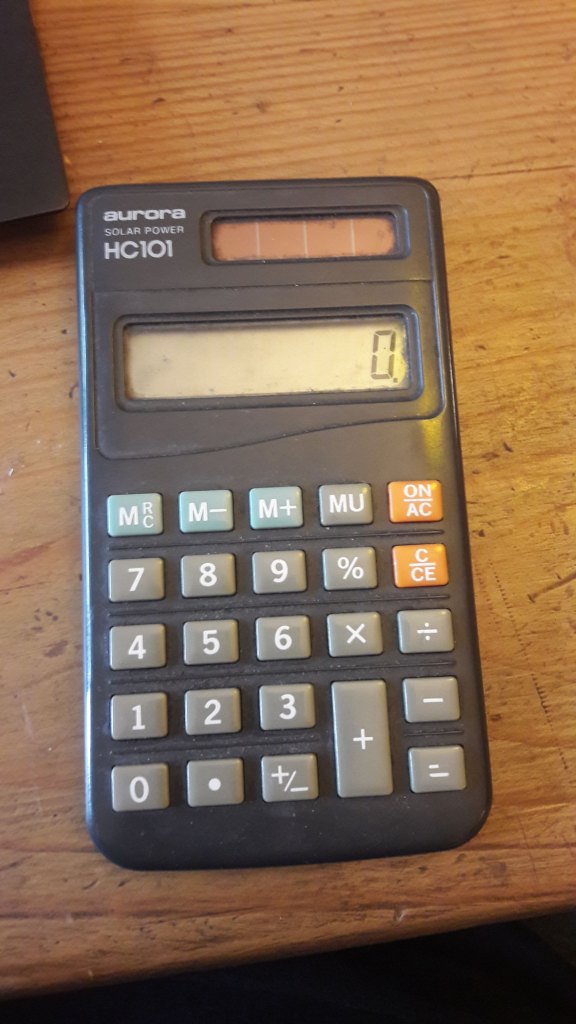 I have carried this little bit of solar powered plastic around with me for the last 29 years.  It has sat beside me at every freelance job, worked long hours and is now semi-retired.  It draws me back to the pre-online and digital world, to the long stressful hours trying to balance the editorial, creative and logistical demands of television production. It reminds me of my failures and my successes.
During my TV career I managed budgets of hundreds of thousands of pounds and sometimes into the millions.  Yet I had failed Maths O'Level.
Maths at school did not make any sense to me. Why would I ever need to understand those squiggles and rules? I was a creative. I read. I wanted to do an English Literature degree.
Maths was dead to me.
Yet, in my TV career, budget management was one of my favourite parts of the job. For years I grappled with why this should be, given my dark relationship with numbers and percentages in the past. It was only when I started to teach as a guest lecturer at BCU that I was forced to analyse this. How could I make this world of rates, estimates and quotes sound sexy? Why would any student want to spend a day researching the cost of hiring a submarine, working out what kit you needed to film on a boat in the North Sea in February, or how to feed a crew of 40 at midnight on a Saturday in Piccadilly Gardens Manchester?
It was during these ponderings that I realised that what I did and what I loved doing was making order out of chaos. The chaos is a drama script, a series proposal or even just a paragraph idea for a documentary. I took this chaos, with all its unanswered questions, possibilities and challenges, and turned it into a single figure. I then spent months negotiating my way through a production to stick to that figure. This was my order. And my calculator was there along the way, spilling out its numbers and keeping everything on track.
It has survived the battle ground of production. Vodka spilt on it after an arduous night shoot turns into an impromptu office party. It has survived many hands grabbing it to make their own calculations, my eyes warily watching its progress and return. It has even survived the era of Excel and calculators on mobiles. It is quick and portable, it can attend meetings, locations and classrooms. Over our friendship it has never crashed and the sunlight has never let its battery die.
So my calculator, still slightly vodka sticky (like a scratch on vinyl) brings back happy, busy memories of my television career. More importantly it reminds me of my 15 year old struggles and how the chalk and talk of my Maths O'Level teaching failed to make the subject relevant to me. And how I want to learn by those lessons to ensure that I can be a better teacher.
— Hilary Weston-Jones