Material Reflections – Dedicated to Han Shan – Paul Whitehead
---
Material Reflections is a collection of short reflective pieces exploring the complex personal relationships that people form with material things. Bringing together perspectives from a range of academics, students, and cultural practitioners, the project seeks to highlight the breadth and plurality of ways in which material things impact upon our ideas, identities, research, and practice. This Material Reflection comes from Paul Whitehead, who is a Research and Innovation Development Support Officer based in ADM. He writes and publishes poetry as Paul Adrian. In this short piece, he reflects upon a sketch – torn from the pages of a now lost book – and how it acts as a souvenir of a place visited and a life lived.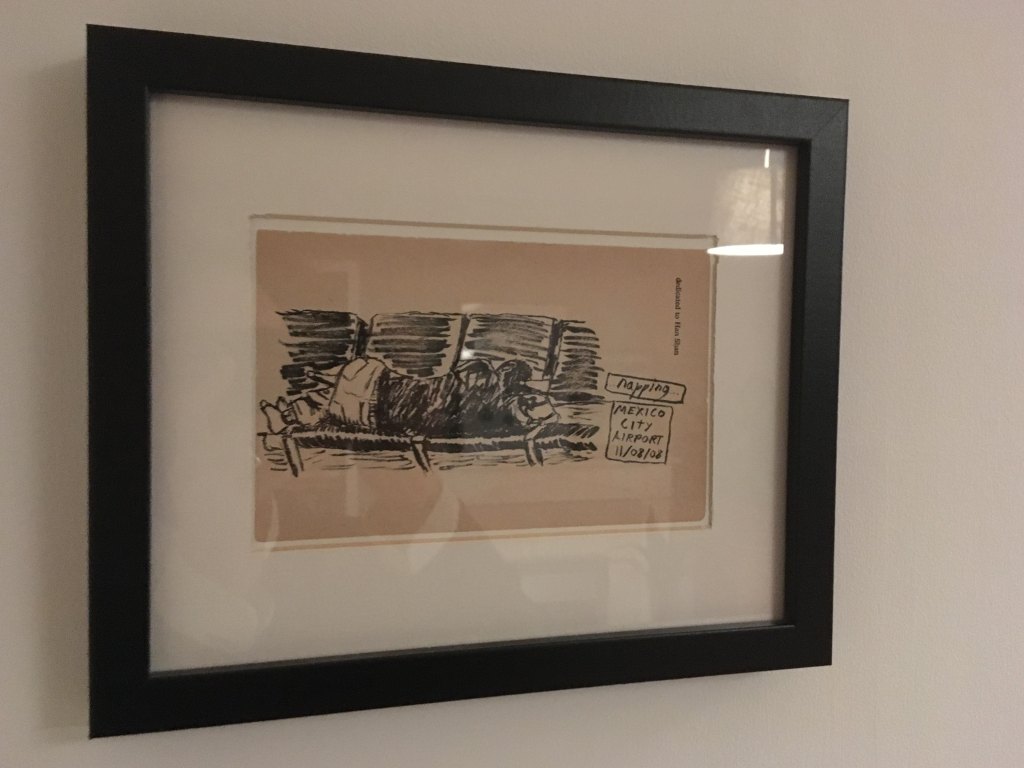 "I saw that my life was a vast glowing empty page and I could do anything I wanted."
~ Jack Kerouac, The Dharma Bums
Young, idealistic, and stuck at Mexico City airport waiting for a delayed flight to the Yucatán, with only a few items in a carry-on bag, I decided to kill some time sketching the other travellers around me. I pulled out the materials I had to hand – a brush-tip pen and my second-hand 1970's copy of Kerouac's The Dharma Bums, which I was reading at the time – and began doodling away on whatever empty spaces I could find in the book. Inside the covers, the title page and here, on the dedication page.
Odd as it may seem, the dedication page is one of my favourite parts of the book. "dedicated to Han Shan" – I now know that Han Shan was a 9th century Chinese poet; a hermit who lived at, and named himself after, a place called 'Cold Mountain'. At the time, I had no idea. Who is Han Shan? I wondered. Why was Kerouac so enthralled by Han Shan as to dedicate his entire book to him? To young me, those few words of dedication seemed tremendously intriguing. Here was a lesson that my heroes had their own heroes.
I'd gone to Mexico partly through my interest in the Beat generation, their restlessness being the only chime I had found, up to that point, with my own. Kerouac, Ginsberg and chums often headed to Mexico; I took a photo of myself in the same spot in the Zócalo as a photo of them I had seen in books. Now, they were signposting me to their spiritual and creative aspirations, through the work of Han Shan.
I'm under no illusions as to the artistic merit of the picture. It's not my best effort, but not my worst either. It's a rough sketch, made with less-than-ideal materials in uncomfortable conditions. But to me, that's it's charm – it's a summation of the circumstance it depicts, both practically and aesthetically. Now torn from the book and yellowed, it has a wabi-sabi that I'm sure Han Shan, and Kerouac, would have appreciated.
Later, moved from one damp rented flat to another, the book went mouldy, and had to be thrown out (another event I'm sure Han Shan would have enjoyed). But I managed to save this one sketch, and tucked it away somewhere safe. I recently came across it when moving house again, and decided to frame it and put it up on the wall. I'm no longer enamoured with the Beats as I once was, for many reasons. However Han Shan remains a firm favourite, and the discovery of his work kicked off a long-term interest in Chinese and Japanese poetry which has extensively informed my own.
This sketch, and all that it encompasses, is a souvenir not only of where I was, but of who I was. Still discovering how much the world had to offer, these figures were my guides. The world seemed very new to me then, and this was me trying to capture something of it's newness.