Material Reflections – BCMCR New Thinking #2
---
We are pleased to announce the publication of "New Thinking #2", the second in our series of 'zine-style publications developed by researchers within BCMCR. This edition showcases contributions to the Material Reflections project, which emerged from our 'Materialities' research theme for the 2019/20 academic year.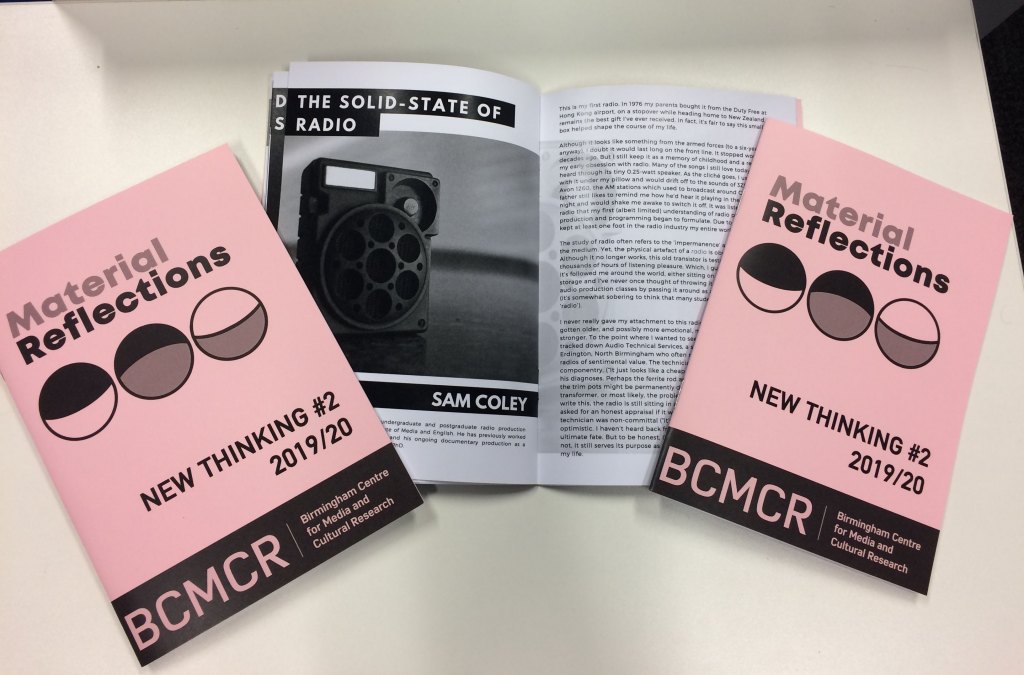 Following the success of the first issue of BCMCR New Thinking in October 2019, this new edition brings together contributions from a range of academics, students, and cultural practitioners from across the Faculty of Arts, Design and Media and beyond. It showcases work developed as part of the Material Reflections project – a collection of images and written reflections seeking to explore the complex personal relationships that people form with material things. Contributors were asked to submit an image of a particularly meaningful artefact, along with a 500 word reflection upon the significance that it holds for them. The project seeks to highlight the breadth and plurality of ways in which these material things impact upon our ideas, identities, research, and practice.
The resulting submissions highlight the incredible breadth and depth of meanings that can be ascribed to seemingly mundane or everyday things. Contributions range from reflections upon cherished religious icons, to musical instruments, to vegetable peelers. They find hidden depth in artefacts of the everyday, and uncover the layers of personal memories, ambitions, and identities ascribed to them.
You can download a PDF version here, and read each of the contributions online, along with many more, here. In keeping with the materiality theme, there are also a limited number of physical copies – please email Iain.taylor@bcu.ac.uk if you'd like one.
The call for contributions to the Material Reflections project is still open. If you'd like to contribute a piece, please read the CfP, and send contributions, along with a short bio, to Iain.taylor@bcu.ac.uk.
A second Material Reflections issue of BCMCR New Thinking will be published later in the year.