U R Art: | 7 cultural spaces, 5 countries, 1 event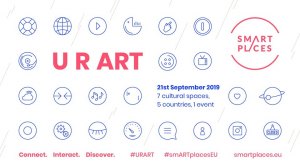 Saturday 21st September sees a major activity for the Creative Europe smARTplaces project in which BCMCR plays a role.
We celebrate European moments with U R ART. Taking place at 7 cultural institutions, across 5 European countries it's the biggest smARTplaces event yet. Throughout the day, key moments are broadcasted live on the U R ART livestream on the smARTplaces website: http://smartplaces.eu. Tune in between 2:30 p.m. and 9.30 p.m. for a varied event of artist interviews, performances, music, etc.
2:30 – 3:00 p.m. Interview with the artists
Musée de Picardie
3.00 – 3:45 p.m. Presentation of video art animation + discussion
Liechtensteinisches Landesmuseum
4:00 – 4:30 p.m. Performance Van Abbemuseum Choir
Van Abbemuseum
4:30 – 4:45 p.m. Official opening
All partners
5:00 – 6:00 p.m. The Democracy Machine!
ZKM – Zentrum für Kunst und Medien Karlsruhe
6:00 – 6:30 p.m. Facebook moment
Azkuna Zentroa
6:30 – 7:00 p.m. Activation artwork F.E. Walther
Van Abbemuseum
7:00 – 7:05 p.m. Projection of Identidata timelapse
Azkuna Zentroa
7:30 – 8:00 p.m. Concert
Etopia Centro de Arte y Tecnología
8:00 – 8:30 p.m. Mythical BBQ
Dortmunder U
9:00 – 9:30 p.m. 3D Mapping Dortmunder U facade
Dortmunder U