'Our Memory Belongs to Us' at the Screening Rights Film Festival
Midlands Arts Centre MAC, Cannon Hill Park, Birmingham, B12 9QH
Please join us for the screening of 'Our Memory Belongs to Us' on November 27 at 1.30pm at MAC Birmingham. The screening is part of the 2021 edition of the Screening Rights Film Festival, and will be followed by a panel with Syrian director Rami Farah, co-producer Liana Saleh and activist Odai al-Taleb.
I have been involved in the production of this documentary film for over eight years, and being able to organise a UK Premiere in Birmingham, with support from both Warwick University (through the Screening Rights Festival) and from BCMCR / BCU is an important milestone that I'd love to be able to share with you!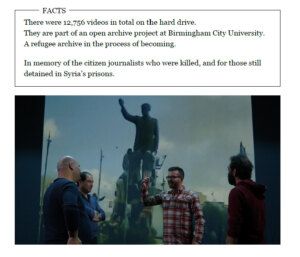 Nearly 10 years after the beginning of the Syrian revolution, three Syrian activists – Yadan, Odai and Rani – reunite on a theatre stage in Paris. Through life-size projections onto a big screen, Syrian director Rami Farah confronts the three men with footage, some of it their own, depicting events that changed their destinies forever. Watching the brutal footage together, they reflect on their personal journeys and wonder what is left of their hopes and dreams. Their reunion serves as a unique window into the complexity of the situation in Syria, where a peaceful uprising was taken over by a ferocious war.
I was invited to join the team crew as a lead researcher by Rami Farah back in 2013. My work focussed on the Daraa archive itself: how does one make sense of such a large, disorganised and in many cases very graphic archive?
I was, and still am, interested in the 'migrant journey' of the Daraa archive, from an eyewitness documentation of the early days of the uprising in Syria, to a collection of digital files on a smuggled hard drive, to a 90' documentary film now screening across Europe as part of 'human rights film festivals'. My work has been predominantly concerned with the effects of the democratisation of image production and dissemination on the ways our societies bear witness and remember in times of war.
I have published several outputs based on my involvement in the project, notably:
Saber, D. (2020), 'Transitional what?':  Perspectives from Syrian videographers on the YouTube take-downs and the 'video-as-evidence' ecology' in Agostinho, D. et al. (Eds.), (W)archives. Archival Imaginaries and Contemporary Wars, pp. 387-410, Sternberg Press.
Saber, D. and Long, P. (2019), 'Refugee writing, refugee history: Locating the refugee archive in the making of a history of the Syrian war' in Durrant, S. et al. (Eds.), Refugee Imaginaries: Research Across the Humanities, pp. 444-462, Edinburgh University Press.
Saber, D. and Long, P. (2017), 'I will not leave, my freedom is more precious than my blood' From affect to precarity: crowd-sourced citizen archives as memories of the Syrian war'. Archives and Records, 1: 38, pp. 80-99, doi: 10.1080/23257962.2016.
Please get in touch on <dima.saber@bcu.ac.uk> for access to any of these articles, and do join us for the screening and panel.