Principles
Why work with academic partners?
Who is your work with and for?
Who is likely to be interested in it?
What do you want to say about your project?
What should people know about it?
How can you tell what people made of your project (and why)?
What is it like for a community group to work with academics?
Pyn Stockman: Some of the academic language took a little bit of getting used to, unpicking that and going, "Oh, right. Oh, okay," and then working with it.
Mandy Ross: It's a different world. […] and that flows into how you explain things.
Many university academics are looking to build partnerships for their work in the wider community beyond the campus and an academic audience. They can learn a lot from everyday practices and community groups as opposed to assuming that they lend them legitimacy. In fact, there is significant mutual benefit in collaboration.
Mandy Ross:       It was great to have an outside eye, and it helped us to capture what was going on in the session. When we're delivering, it's hard to do the delivery and to capture what's going on.
… we had more of a close focus, and we had the opportunity, working with […] a researcher, to plan and to observe and to reflect on our practice in more close focus and greater depth than we usually have. The chance to repeat a small project was useful for us, I think.
Pyn Stockman: I think it was also different in that we weren't working towards the children producing a film or a book. It was about exploration and about understanding, which is always part of our projects, but that was its main focus.
How do you find a researcher?
Your best option is to attend a networking event where academics will be present. Everyone will be interested in discussing previous research and future projects. If the person you're speaking to isn't able to help, chances are they'll be able to help connect you to the right people. (If you are active on Twitter, ask there and tag appropriately!)
Failing that, directly approach an academic. Every university website will provide profiles of its staff, and these profiles will include research interests. There is no standard template for university websites, and most will have a focus on recruiting undergraduate students, but you will typically be able to find staff pages. This is best if you have a specific institution you want to partner with.
Alternatively, use Google search tools; using "site:ac.uk [search term]" will let you search UK university websites to see if anyone has mentioned your topic of interest in their own research profile. This will require a touch of perseverance, but means you won't miss someone working in an unexpected place (for example, finding historians in a media school, not a traditional history department!). As a last resort, university marketing offices are often approached by the media, who ask for experts to quote or interview. Community groups are also free to use this approach, though directly contacting a person whose work interests you will likely have better results. Throughout, bear in mind that academics want and need to work with community groups, you will not be imposing or wasting anyone's time.
Sharing project insights
Most history projects that involve working with others will be oriented to sharing their insights with a wider constituency simply by virtue of the fact of having discovered something worth knowing about or doing as a form of public history.
Sharing the outcomes of history work has the benefit of generating feedback and more information to add to the project, as well as prompting more people to engage with it. On a previous project (see below) SCA publicised how their work made use of the life and death of George Grimmett. This activity drew attention from his grandson, who shared family letters and photos, making Generations Of Commemoration both an extension of the Handsworth project, and a deepening of a family's story.
Of course, if you are designing a project with a view to gaining financial support from local government or an organisation like Heritage Lottery Fund, sharing and showing what you've been doing via some form of output is integral to the conditions of funding. For the benefit of funders, or to share more widely what you have been doing, plan to work towards creating something that explains your project and what you have learned from it.
Generation of Commemoration has produced the following as part of its process of history-making and in its design for outcomes:
Workshops (good for inspiring others and finding out if your project and ideas are clear enough for further audiences)
This toolkit! (again, useful for inspiring others, and for sharing the general lessons that emerge from your projects, alongside the specific histories you produce)
A podcast interview (hosted on Soundcloud – free and easily accessible)
An interview transcript (hosted on this website).
Academic outputs (published in journals and presented at events)
How do you know what difference you've made?
Funding agencies require a final report, detailing the activities undertaken and what impact your work has had. If you are working with an academic partner, they will also need to gather evidence here.
Even if there are no demands made of your project, it is helpful to document its various stages: take photos at events, keep notes as you go, and look for ways to make or write about what you've been doing during the process.
In their work, SCA took photographs, recorded an interview about their work, produced artefacts and asked children to write sentences from speeches they imagined would be given at a commemorative event. As an activity alone, this encouraged the children to engage with the material. Thinking ahead to the end of the project, this sort of activity produces tangible material to reflect upon as you draw up a final report for a funding agency, and to show others.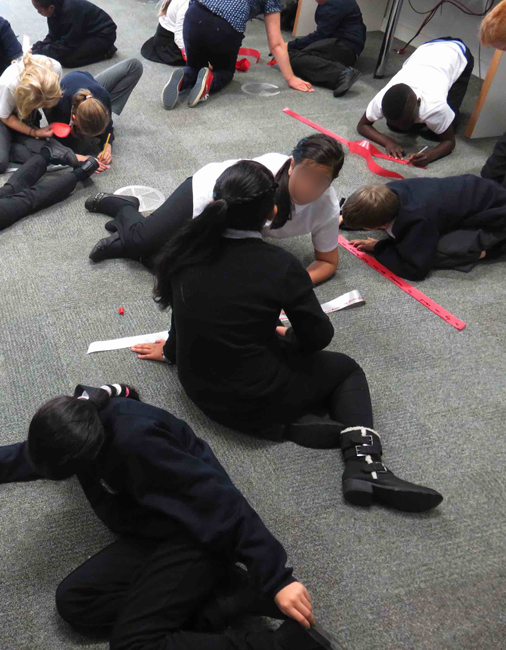 Mandy and Pyn also reflected on the processes of simply asking how the project worked for its participants:
Mandy Ross: Each time we asked the participants – the classes of children or the young people from the youth group – what it was that most engaged them and that did the best job of helping them to understand what we were exploring. So, we asked, "Was it the suitcase of artefacts or was it the film, or was it the artefacts with the films?"
In each case, it was the combination that, by a long way, was the most effective way of engaging and helping them to understand.
Pyn Stockman: that's about the importance of building your evaluation into the session that you're delivering, and capturing it there and then in the simplest possible way. I think it highlighted for me one of the most effective ways is the circle where you step in if you agree with the statement. You step out if you disagree with the statement. You immediately have a visual way of capturing that evaluation, and then you can ask the question of, "Well, why have you chosen to make that response?"