Check Global: Phase VI awarded funding!
---
I'm very happy to share the news that our Check project (ongoing since 2014) has been recently awarded funding by the Swedish International Development Agency for another 36 months!
Check Global will provide world-class tools and training resources to an international network of independent media organisations, journalism schools and human rights researchers in the developing world. With a focus on collaboration, we will create open source tools and open licensed online and offline training to support emerging practices in digital media literacy skills, fact-checking, disinformation monitoring and verification of digital media. This program builds on six years of impactful programming that has seen the Check team build a world-class network of international partners, and an award-winning open source platform addressing the increasingly high-profile challenge of credibility in digital media.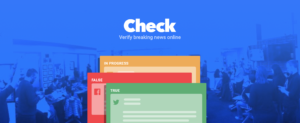 The current award expands the MENA-based network (Lebanon, Syria, Jordan, Egypt and Palestine) to include:
– East Africa (Zimbabwe, Kenya and Tanzania)
– Latin America (Mexico, Colombia, Brazil, Costa Rica and Venezuela)
– Southeast Asia (Philippines)
Building on the solid foundations laid since 2014, the Check program is designed around 5 key areas of focus:
Technology – Improved open-access tools and technical infrastructure for independent actors in all areas of focus to curate, check, verify and debunk claims and media shared online, and to produce alternative content that helps countering mis- and disinformation.
Network – Improved collaboration and stronger networks between independent media, journalism programs, activists, archivists and human rights defenders working on open source investigation, fact checking and debunking, and digital media literacy efforts in all countries of focus.
Training – Improved capacity of journalism students, citizen journalists, civil society and activist networks and human rights documentation enthusiasts to verify content, conduct investigations and produce viable online content to counter the rise of propaganda and mis-information in their countries.
Research – Improved understanding of the relation between open-source tech development, digital media literacy and social impact, as well as the global misinformation ecosystem on ways in which citizens' public opinion is formed (M&E).
Data – Improved datasets around online source and content credibility, and digital literacy skill sets in all countries of focus for research and product development.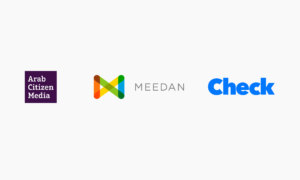 Here are the outputs we're working on producing in the
– Check Global Partner Network: At least 20 new independent media collectives, CSOs and journalism schools will be using our project's tools and training resources over the next 3 years.
– Check training partners in Syria (Syrian Archive), in Yemen (Yemen Archive), in Zimbabwe (ZimFact & CITE), in the Philippines (VERA Fact), and in Latin America (Chicas Poderosas).
– CheckCon II and III – Building on the first CheckCon Conference in Beirut in 2017, these two international conferences will gather partners and the wider Check community in Years 2 & 3.
– MENA Investigative Fund: https://arabcitizenmedia.org/mena-investigative-fund/ Over 30 recipients will be awarded funding to develop investigative stories and reports (short and long form, print & audiovisual).
– Check Global Training Series Over 1500 beneficiaries will be trained in open source investigation, verification and misinformation monitoring and digital literacy skills over the next 3 years.
– Arab Citizen Media: https://arabcitizenmedia.org/courses/ 3 open-licensed online courses will be made publicly available in Arabic & English.
– Pop-Up Newsroom: From the Check Lebanese University Newsroom to a Check Pan-Arab Newsroom https://arabcitizenmedia.org/newsroom/ We will expand our work with the Lebanese University to set-up a Pan-Arab student newsroom, with young journalism students from 5 Arab universities, and will train them in issues related to media literacy, new media, investigation and social change. We will host a Digital Media Literacy Camp which will bring together over 50 students and reporters from across the MENA region.
– Research: M&E frameworks and open-access resources for public use within academic and non-academic circles; Presentation of findings and project impact at 5 international conferences and academic gatherings in the next three years; 2 scholarly articles to be published in academic journals building on the experience working on and assessing the Check Global project; 3 research papers produced in partnership with research partner Oxford Internet Institute; a Check Global Impact Case Study as part of UoA 34 REF 2021 submissions.
Dr Dima Saber