(A PDF version of this toolkit is available here)
Purpose of the toolkit
This is a 'toolkit' that outlines some principles, motivations and methods for identifying, approaching and using audio-visual (AV) archives in creative, effective and memorable public history projects. It is aimed at educators, community groups, local history societies and individuals interested in working with archives in order to explore and make available our shared pasts.
The toolkit is derived from a funded research project, Generations of Commemoration, a partnership between Secret City Arts (SCA) represented by Mandy Ross and Pyn Stockman, and researchers from the Birmingham Centre for Media and Cultural Research (BCMCR), supported as part of the Voices of War and Peace First World War Engagement Centre funded by the Arts & Humanities Research Council and in partnership with the Heritage Lottery Fund (details in the appendix).
Pyn Stockman: We're part of a network of organisations and projects that seek to explore World War I. And to engage communities with their history and with the history of World War I. We see it as a community of interest and that 'Voices of War' has brought together a number of different organisations and groups in order to explore that.  
Mandy Ross: We came into the process having done a World War I project, and we were encouraged to look at ways that we could deepen and further our project and extend its value. Build on the work that we'd done, and that's been a great opportunity, which we feel is continuing, and we can see the potential for further links and bonds and explorations via 'Voices of War'.
Approach of the toolkit
Generations of Commemoration focused specifically on creative responses to the subject of the Great War as a means of exploring themes of commemoration and working with groups of young people, focussed in particular on the use of archive film material.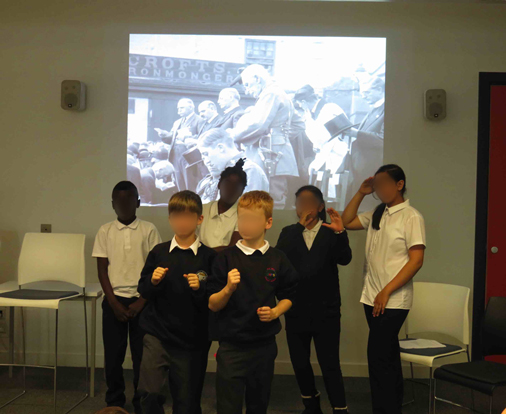 Our approach in this toolkit is to set out a number of questions and ideas about historical work, outlining practical steps towards productive development and engagement with archives.
Each section deals with an aspect of public history and the archive. It gives a simple checklist of prompts and illustrates these with reference to the operations of Generations of Commemoration and the practical methods of SCA. The work of SCA is further elaborated in the appendices, in our further resources, and on their website.
This toolkit emerges from the collaboration of academics and artists eager to pass on lessons gained from that collaboration. We hope that this will be of use for those of you already advanced in the development of projects and currently seeking financial support, as well as those who might just be getting started and who might be aiming to produce history whatever it takes.