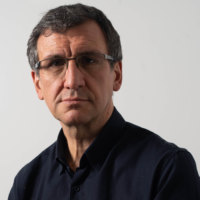 WATCH: #The Work of Art: Craft, Enterprise and Gender in the Digital Age
---
#TheWorkofArt is an online program of art dialogues targeted at European audiences within the framework of smARTplaces. The program is made up of eight live sessions which discuss and reflect on the labour and processes of art with different participants.
Starting February 2018 until May 2020, all partners of smARTplaces will host – in triennial frequency – one of these sessions, consisting of a Q&A simulcast on Facebook Live, where the European public will be able to virtually attend and participate in connecting, interacting and discovering art professions and all what happens behind the scenes of art.
The aim of #TheWorkofArt is to offer our online visitors not only the opportunity to know more about the cultural content its centre is offering, but also the processes and contexts behind them. It gives us the opportunity to share with our audience the creative processes, often covered by the final results, alongside the wide range of required knowledge, experiences, profiles and professions needed to carry out these activities: artists, curators, editors, designers, art handlers, art educators, sound technicians, etc.
This event took place at BCU on FRIDAY 21 June 2019 and this presentation was supported by staff and students of Birmingham City University.
Contemporary craft entrepreneurs can be highly resourceful, making the most of digital technologies and embracing platforms such as Etsy to sell products and social media sites such as Instagram to build brand awareness and reputation (Luckman and Thomas, 2018b).
Craft entrepreneurs' work is often at the intersection between highly professional practices on the one hand, and amateur work which shifts between hobbyists with the possibility of selling their work. Running a business tends to come secondary to the love of making and a passion for the craft artefact, causing an uneasiness with notions of being entrepreneurial and business savvy
The gendered spaces in which craft work is historically associated are connected to the home or communal spaces through organisations such as the Women's Institute in the UK, underlining the idea of amateur and/or charitable pursuit. As Parker and Pollock (1981) state the work of women is awarded a secondary status because of the different place in which the tasks are performed, between private and public activities, domestic and professional work and their references to normative femininity?
This edition of The Work of Art addressed the following questions:
What is a craft worker?
What is the craft worker's experience of the challenges and opportunities afforded through entrepreneurship?
As entrepreneurs, how are craft workers negotiating and presenting themselves through online platforms?
How do notions of gendered performativity impact our understanding of amateur and / or professional craft entrepreneurship?
How to connect with wider smARTplaces?
Discussants of these issues were:
Dr Annette Naudin is senior lecturer in media and cultural entrepreneurship. Annette has had a leading role exploring enterprise education for the media and cultural entrepreneurship for her research and for EU funded projects at Birmingham City University. Annette is a member of the Birmingham Centre for Media and Cultural Research and co-leads the Creative Industries cluster.
Dr Karen Patel is a Research Fellow at Birmingham City University, UK. Her research interests centre on questions of expertise and inequalities in cultural labour, and the role of social media in creative practice. Her current research focuses on the expertise of women craft makers from ethnic minority backgrounds.
Chairing the session was:
Paul Long Professor of Media and Cultural History in the Birmingham Centre for Media and Cultural Research, Birmingham City University. He researchers popular music history, heritage and archives as well as histories of creative industries. He is currently writing Memorialising Popular Music Culture: History, Heritage and the Archive (Rowman and Littlefield) for publication in 2020. He has a role in the smARTplaces project as researcher